Bicycle Fixation Weblog
Thursday, March 5th
Urban Noir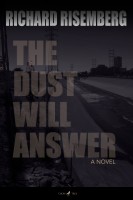 Well, I confess that bicycles are mentioned but twice in my newly-released novel, but it's still a deeply urban mystery story that ought to engage many of Bicycle Fixation's readers. It's available as an e-book now at the venues listed below, and a paper version should be out very soon.
You can buy a modestly-priced copy of
The Dust Will Answer
at:
Here's the cover blurb, since e-books don't have back covers:
1978: The wave of gentrification has yet to break over downtown Los Angeles, and vast swathes of the warehouse district lie nearly abandoned next to the sterile trench of the city's concrete-clad river.

Lenny Strasser, a straight-arrow type with a taste for shady places, plunges into that world to discover that sometimes the only distance between two points is a very crooked line. When Lenny's friend Dave Larrabee nags him into helping him track down a missing girlfriend, Lenny suspects that the girl doesn't want to be found. He knows her all too well: she was his before she was Dave's, and she'd gone gleefully missing from his life one time too many. Worse, he's not entirely sure he's over his feelings for the theatrical and self-centered Kate.

But this time it wasn't one of her ordinary infidelities--she may have fallen, again, into the hands of the charismatic Nighthawk, who could lead her into territories where the danger is real and role-playing no protection from harm.

The quest takes them into hobo jungles and punk squats by the LA River--and into an after-midnight darkness of moral ambiguity that changes Lenny's life in ways he'd never dreamed of.

Love, loss, a missing person, hobo jungles, punk rock, drug dealers, the surrealistic Los Angeles River, and midnight ramblings into dangerous territory…it's not too bad even without bicycles!
Richard Risemberg on Thu, 05 Mar 2015 22:29:27 -0800 [link]
Wednesday, March 4th
Offsite Blogging CCX
At Orange 20's site this week, I exhort people to
Vote, Damnit!
While at Flying Pigeon LA, I reveal just what can happen when you do, in
NELA Safe after Election; Midtown Still Threatened
.
And I got up at 04:15 yesterday morning to put in a fifteen-hour day tending a polling place myself, so this is as much cleverness as I can muster today….
Richard Risemberg on Wed, 04 Mar 2015 21:51:48 -0800 [link]
Wednesday, February 25th
Offsite Blogging CCIX
Sorry I haven't been posting much original material here, but my days have been very busy, and I take care of my paying clients first…such as the two fine community activist bike shops represented in this space.
So this week, I showcase the freshly-repaired bike corral on Larchmont Boulevard on Orange 20's blog, in
Up, Down, and Up Again
. The poor thing was dented by a car but kept on parking heaps of bikes till it was repaired!
Meanwhile, on Flying Pigeon LA's blog, I look at how
Nobody Rides in LA...
except, of course, for all the folks who do.
Richard Risemberg on Wed, 25 Feb 2015 20:51:49 -0800 [link]
Thursday, February 19th
Offsite Blogging CCVIII
This week, I comment on the upcoming primary election in both orange 20's blog and Flying Pigeon's, but since the two activists bike shops are in different districts, it would be worth reading both posts if you live anywhere in LA—because if you do, what the council members battling for power do in those districts
will
affect your ride.
At Orange 20 Bikes:
You Pick 'Em
.
And at Flying Pigeon LA:
Vote or Choke
.
It's going to be a rough election season. The finals follow in May; let's hope we still have a choice by then.
Richard Risemberg on Thu, 19 Feb 2015 01:53:19 -0800 [link]
Wednesday, February 11th
Offsite Blogging CCVII
With an election coming up, I look at how Livable-Streets-friendly Los Angeles City Council candidate Tomáas O'Grady needs tog o
Beyond Safe Streets
to win the election. On Orange 20 Bikes.
And at Flying Pigeon I look at the madness of the SUV-dominated school runs in LA and elsewhere, and how
Exchanging Circles
—that is, vicious circles for virtuous ones—might be the right prescription.
Richard Risemberg on Wed, 11 Feb 2015 21:59:23 -0800 [link]
Wednesday, February 4th
Offsite blogging CCVI
Orange 20's site sees a short list of upcoming community meetings that bear of bicycling, titled, reasonably enough,
Making It Happen: Upcoming Community Meetings
.
And Flying Pigeon LA celebrates the city's newest bike corral, on Larchmont Boulevard, and its steadfastness in protecting parked bikes, and even pedestrians in the adjacent crosswalk, from the shopping street's plague of maniacal drivers. It stands
Battered but Unbowed
, still parking bikes and shielding walkers while it awaits repairs….
Richard Risemberg on Wed, 04 Feb 2015 20:10:31 -0800 [link]
Saturday, January 31st
Singing in the Rain
Like all the other cyclists I saw yesterday, as I rode to Santa Monica and back for a meeting—and there were plenty of us out there—I rode under a vast looming dark-gray thunderstorm that squatted over most of the city in the afternoon. Just after I passed the 405 freeway on my passage home, lighting flickered over the distant hills, and it started to rain. But, unlike every other cyclist I saw, I didn't get wet.
After all, the day had dawned rainy, and more rain was predicted. So I had packed my rain cape in the pannier, figuring that I probably wouldn't need it.
When I did, I was plenty glad it was there.
One fellow who was riding along with me in the Santa Monica Boulevard bike lanes for a while asked where I had gotten it. He was a middle-aged man in a t-shirt and shorts. I told him the brand—it's a Carradice Pro Route—and I hope he loked it up and ordered one. Shops in LA don't carry much in the way of rain gear. And people here dont seem to buy it. Hell, I've seen folks walking down my block in absolute downpours, in a suit, without even an umbrella! This doesn't make sense. We're talking about fairly simple technologies here: even an expensive rain cape costs less than most shoes, and umbrellas are almost free.
Well, maybe the smiles, nods, and thumbs-up I got from almost every single other cyclist I came across will translate into some internet searching for rain gear.
They say it may be a wet winter here in Southern California. But that's no reason to show up soaking wet just because you pedaled somewhere. (I do keep a handkerchief in my pocket for dabbing my face before I go into a building on rainy days, and a comb for my beard.)
When I stopped at the trader Joe's on my way home, after eight miles of delightful rain riding, the clerk asked me if I needed to validate parking for my car. I said no. My bike was waiting outside in the rain, with a showercap on the saddle. I got home dry.
Richard Risemberg on Sat, 31 Jan 2015 18:56:32 -0800 [link]