Bicycle Fixation Weblog
Wednesday, March 25th
Offsite Blogging CXIII
Orange 20 saw a blurb
For the First Time Ever
CicLAvia in LA's San Fernando valley. The event is past, but the post is still worth reading, if you're not familiar with our CicLAvias.
Meanwhile, at Flying Pigeon LA, I berate myself with an
O Me of Little Faith
, when I realize that a business that I thought was clueless was nothing of the sort, and replaced its crappy bike racks with one of the finest private bike corrals in LA!
Richard Risemberg on Wed, 25 Mar 2015 17:52:13 -0800 [link]
Monday, March 23rd
It's Good to Be Alive
Yesterday was a good day to be alive. I began the morning at my t'ai chi class, which meets in the teacher's tranquil backyard, a domain prowled by a large friendly cat and perfumed by orange and jasmine, After that, I headed over the Hollywood Hills to the Valley for the year's first CicLAvia, our local Open Streets event.
After the small stroke of a couple of years ago, I was advised not to indulge in hill work for a while, but a few months ago I was cleared to "do whatever you like." What I liked yesterday was taking my faithful fixie up Benedict Canyon Road to Mulholland Drive. Benedict Canyon does not go all the way to the Valley, so sees only local car traffic. Furthermore, it is probably the most visually charming of the local residential canyons, with houses that are more elegant than ostentatious, and a narrow stream running alongside much of the passage. It may be an annoyingly slow drive to the impatient motorhead, but it's an ideal bike route up to the ridge. And of course, the plant life was showing the effects of what little rain we've had this winter, so it was not only the first day of spring by the calendar, but it looked and smelled as sweet as springtime should in a Mediterranean climate such as ours. Masses of bright green leaves overhead, flowers at knee height, a hint of moisture in the air, and even the austere wild hills rising above the last, high houses dressed in their own darker green. Mulholland too, LA's iconic hill drive, was lined with white and purple flowers, and didn't suffer too much car traffic on a Sunday noon. I followed it eastward to Coldwater Canyon for the descent to the Valley, where I joined CicLAvia at its westernmost hub.
About the event itself I'll say nothing except that I went sans camera or notebook, wanting only to enjoy myself, and that I succeeded in doing so. It was a bright, busy day of happy crowds rolling and strolling easily along the usually traffic-hammered roadways of Ventura and Lankershim boulevards, a true festival celebrating nothing but the joy of being unsequestered and human together in a true public space., I met friends, people-watched, and pedaled at ease among the throngs.
There was even room on the subway for the run back to Hollywood, from which I headed home, glad to be alive to enjoy such days.
Richard Risemberg on Mon, 23 Mar 2015 16:48:57 -0800 [link]
Wednesday, March 18th
Offsite Blogging CCXII
This week, Orange 20 Bikes looks at how
A Tradition Evolves
, as LAs celebrated "Marathon Crash Race" becomes the "Marathon Hustle Ride"…which in a way represents a return to its roots as the "Marathon Bike tour" of years gone by.
Meanwhile, Flying pigeon LA wonders,
Why Have We Done This to Ourselves?
, as it ponders a massive road in decidedly un-serene El Sereno—though at least it does have bike lanes….
Richard Risemberg on Wed, 18 Mar 2015 18:46:22 -0800 [link]
Wednesday, March 11th
Offsite Blogging CCXI
This week's Orange 20 post brings us
Good News x 2
, as LA's Larchmont Village wins a public bike repair station, and Gloria "More Parking Lots!" Molina is soundly defeated in Council District 14.
Meanwhile, Flying Pigeon LA makes note of a slight move
From Barbarism to Civilization
in benighted Beverly Hills….
Richard Risemberg on Wed, 11 Mar 2015 19:10:04 -0800 [link]
Thursday, March 5th
Urban Noir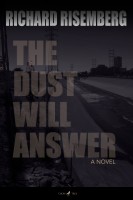 Well, I confess that bicycles are mentioned but twice in my newly-released novel, but it's still a deeply urban mystery story that ought to engage many of Bicycle Fixation's readers. It's available as an e-book now at the venues listed below, and a paper version should be out very soon.
You can buy a modestly-priced copy of
The Dust Will Answer
at:
Here's the cover blurb, since e-books don't have back covers:
1978: The wave of gentrification has yet to break over downtown Los Angeles, and vast swathes of the warehouse district lie nearly abandoned next to the sterile trench of the city's concrete-clad river.

Lenny Strasser, a straight-arrow type with a taste for shady places, plunges into that world to discover that sometimes the only distance between two points is a very crooked line. When Lenny's friend Dave Larrabee nags him into helping him track down a missing girlfriend, Lenny suspects that the girl doesn't want to be found. He knows her all too well: she was his before she was Dave's, and she'd gone gleefully missing from his life one time too many. Worse, he's not entirely sure he's over his feelings for the theatrical and self-centered Kate.

But this time it wasn't one of her ordinary infidelities--she may have fallen, again, into the hands of the charismatic Nighthawk, who could lead her into territories where the danger is real and role-playing no protection from harm.

The quest takes them into hobo jungles and punk squats by the LA River--and into an after-midnight darkness of moral ambiguity that changes Lenny's life in ways he'd never dreamed of.

Love, loss, a missing person, hobo jungles, punk rock, drug dealers, the surrealistic Los Angeles River, and midnight ramblings into dangerous territory…it's not too bad even without bicycles!
Richard Risemberg on Thu, 05 Mar 2015 22:29:27 -0800 [link]
Wednesday, March 4th
Offsite Blogging CCX
At Orange 20's site this week, I exhort people to
Vote, Damnit!
While at Flying Pigeon LA, I reveal just what can happen when you do, in
NELA Safe after Election; Midtown Still Threatened
.
And I got up at 04:15 yesterday morning to put in a fifteen-hour day tending a polling place myself, so this is as much cleverness as I can muster today….
Richard Risemberg on Wed, 04 Mar 2015 21:51:48 -0800 [link]